The fireplace is usually the focal point of a room. Whether it's in the living room, dining room, master bedroom, or even outdoors, a tastefully designed fireplace creates a cozy space to gather around in the evenings and adds function and value to a room.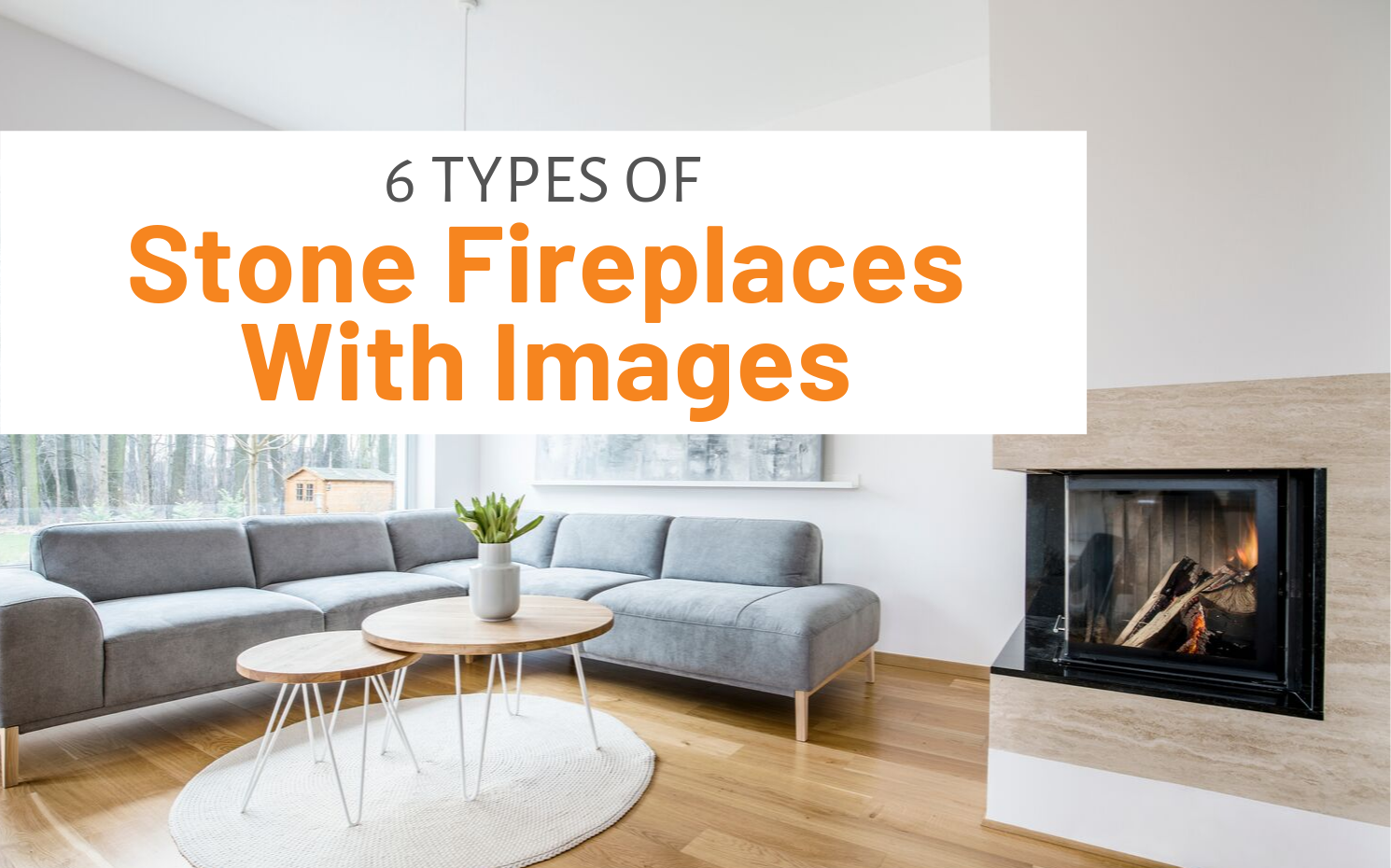 Fireplaces can be a great selling point. But choosing a style can be difficult, right? Let's look at six different types of stone fireplaces to inspire you in your choice!
Flagstone
Flagstone is usually what pops to mind when we think of stone fireplaces. They're probably the most common. Depending on the color and shape of the stone, flagstone style fireplaces can fit into a wide variety of styles. Dark grey stones cut to a smaller size can be the striking, bold touch needed to give a room that modern edge. Large brown or black stones make a perfect feature wall in a country style home or a woodsy mountain cabin.
Although sometimes a trendy option, in an older home, flagstone can come off as looking dated. Often new homeowners move into a house and realize that the fireplace does not match their updated style. Thankfully, there is a cheap and easy way to fix the problem. Let's talk about that next!
Painted stone
Painting a fireplace is such an easy upgrade! With only a coat of primer and a chic farmhouse paint color such as white, grey, olive green, or navy, you can transform an entire living room. Painting a fireplace not only gives the stone a facelift, but it can create a calm, undistracted look for the room. Instead of living with that crazy yellow and brown brick from the '70s, simply paint it all one color and attach a chunky wooden mantle for a rustic farmhouse look!
River rock
Although fitting for even a modern design, river rock fireplaces are right at home in cabins, lodges, or on an outside patio. The natural beauty of the rocks complements an outdoorsy setting. Depending on the construction of a river rock fireplace, such as how much grout is used, it can have a bold feel, or a softer effect, like in the picture above. Some river rock fireplace designs actually look like the flow of running water. 
Marble
From big, bold, and modern, to elegant and traditional, marble appeals to a variety of tastes when it comes to a fireplace. It is perhaps the most versatile stone for creating a fireplace that complements your personal style. 
Cast marble is the most traditional form of a marble fireplace. But there are so many options. Stacked stone veneer. Tile. And how about the color options? Bold black-and-white, soft greys, browns, or pure white. Pairing a beautiful marble surround with wood creates a traditional or farmhouse look. Pairing marble with iron makes for a rustic or industrial feel. And a cast marble fireplace doesn't have to be fancy – although elegant swirls and flowers can look striking. Marble can be cast into a sleek, angular design for your modern home too!
Rustic
A rustic fireplace usually utilizes a variety of different stones. Granite, concrete, and flagstones are mixed and matched to make one big giant statement of a fireplace. Rustic fireplaces are either a fun puzzle of many different sized stones or a simple combination of one or two different stones. Speaking of which, recycled stone is perfect to achieve that rustic, homey feel.  
Limestone
Like marble, limestone can add that feeling of luxury and elegance to your home. Limestone is often carved by hand, which gives it a custom look that you may be going for. For a high-end finish and a stunning focal point for the room, limestone is a great choice. Since it is so subtle in color, creating a bold fireplace out of limestone is almost impossible! But if you want to go for a relaxed and elegant look, limestone won't disappoint. Stacked limestone is perfect for a rustic style home as well!
Options, options…
The possibilities are endless. There are so many other types of stone fireplaces besides the six we went over in this article. Sapstone, slate, sandstone, bluestone – the list goes on! Hopefully, you found some fresh inspiration. Stone adds to a home in many different ways, but one of the most beautiful is a stone fireplace. It's worth the time and effort you put into it, and it can bring plenty of joy and functionality to your home for years to come!