Contemporary design favors contrasting color schemes – specifically, black-and-white or simply dark/light themes. For many homeowners, this means choosing the right paint colors and decor items to achieve a contemporary contrast. It isn't all about paint colors, though. Contrasting dark countertops with light cabinets is a tasteful way to add to this look. Take a look at how others have created this style in their homes to see if it's what you want in yours!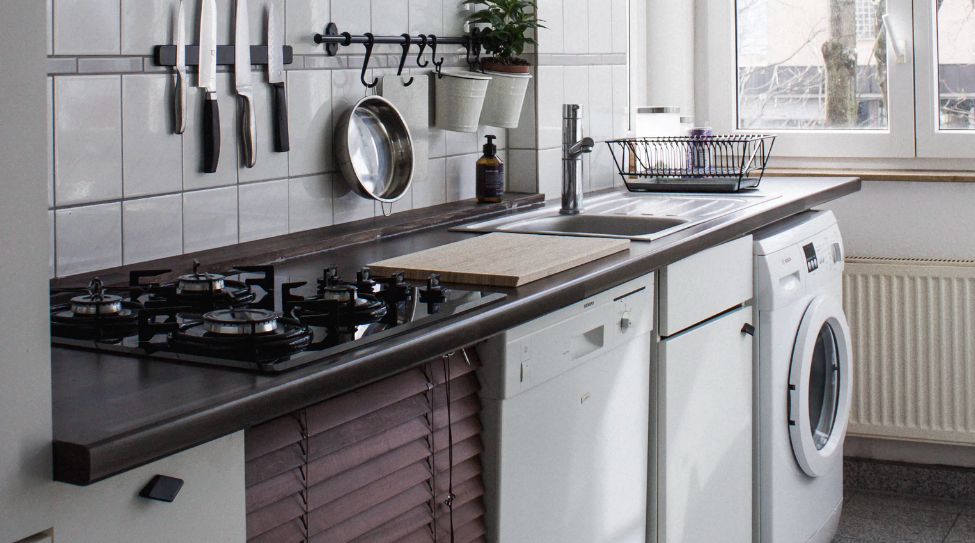 Choosing dark countertops for your home
First of all, think about what type of countertop you want to use in your home. Plenty of countertop materials come in dark colors. You can choose between black marble, granite, quartzite, and soapstone, among others. It's important to choose and install countertops before you finish the other details of a room. If you don't, you run the risk of being stuck with countertops that don't match the rest of the room.
Doing a little research before you buy your countertops is a good idea as well. Certain countertops are better options for some areas of the home than others.
Dark countertops with light cabinets: kitchen design
What are the best ways to pair dark countertops with light cabinets in your kitchen? Some of the homes we're going to look at will help answer that question.
Black on white
This black on white kitchen is a good place to start. Black countertop paired with white cabinets is a simple but incredibly classy and up-to-date option. Additionally, you'll have a wide range of choices in how you decorate a black-and-white themed kitchen.
Black and light blue
If you aren't really into the black and white look for your home, consider something similar to this kitchen. The light blue cabinets and black countertops create a contrast that's contemporary but not too mainstream, leaving you a little room for individuality in your kitchen. Remember to avoid choosing a blue that's too dark: light blue is what creates the contrast in this look.
Gray and white
"Dark" doesn't have to mean "black." Gray countertops are another candidate for a contemporary contrast look. The dark gray countertop in this home provides a softer contrast for the white cabinets, but it's still an ideal choice for this style and a good option for homeowners who don't prefer a glaring contrast. If you choose a gray that's too light, however, you'll end up losing the contrast completely: a medium to dark gray works better for this style.
Black and cream
Finally, this kitchen is a good example of what happens when black and cream combine to create a beautiful contrast. The kitchen island countertop contributes darkness to its cream-colored surroundings, and it's the perfect combination for the contemporary style:
Dark and light color schemes for the bathroom
Of course, this style isn't limited to the kitchen. Dark and light contrasts are also a great way to give your bathroom a contemporary makeover.
Black and white
A black and white combination is just as beautiful in the bathroom as it is in the kitchen. This bathroom is a great example. The color contrast here definitely creates a high-end, classy feel that really helps with the contemporary look. Marble countertops with a polished finish (like the one shown below) are also a nice touch for this style.
Gray with white
Again, you certainly don't have to use black countertop to achieve a contrast. Gray countertops and white cabinets create a contrast that's not quite as startling but still looks genuinely modern. This bathroom is a great example. It's a little lighter than the gray kitchen countertop we looked at earlier, but it's still dark enough to create a contemporary contrast:
Contemporary contrasts in your own home
Are dark countertops with light cabinets a good look for your home? Hopefully, the examples we've featured have inspired you to find out! If it's time for a remodel, the contemporary contrast look is definitely a great way to give your home a makeover this summer – but the best way to get the look you want is to plan out your dream home and then go from there. Creativity is more important than always going by the book when it comes to home design!