It's time to finally put wings to your dream of creating a top-notch bar area—whether for your own or your business' use. Maybe you're creating a rustic restaurant in the heart of your city's historic district. Or you might be a homeowner looking to remodel some of your free space. Whatever your reasons, you're wondering, "how wide should a bar top be?" As you take on the planning, it's one of the key metrics you'd like to have so your end product meets all your expectations.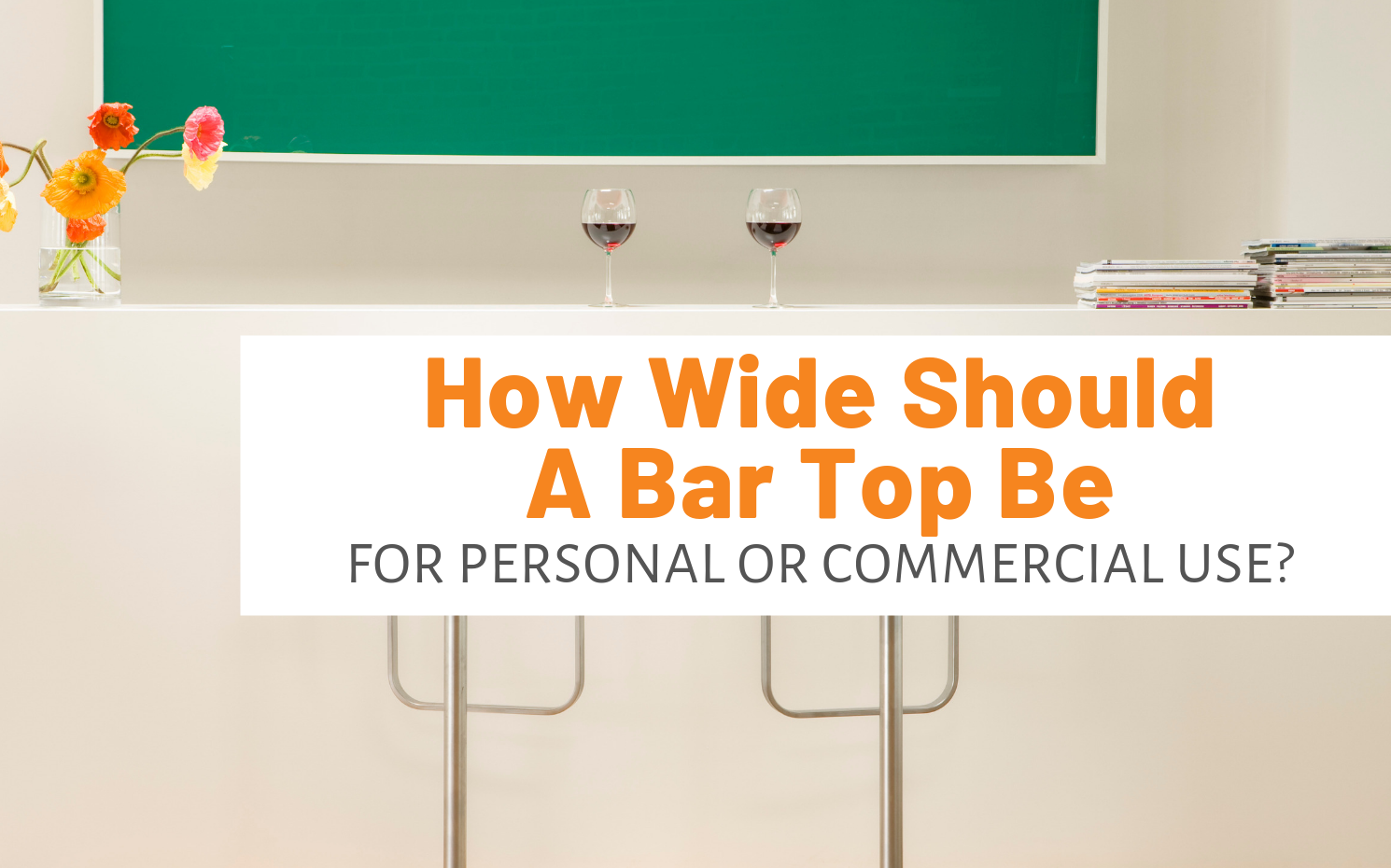 Let's start with the answer to the question. In other words, we'll crunch the numbers first. Then, let's get to the fun stuff, like one Virginia business's outside-the-box bar top and some thoughts on matching your bar top to the rest of your business (or home).
How wide should a bar top be?
Answer: 16-20+ inches. However, it does depend to some degree on who you ask. While some will offer the 16-20 inch measurement, you may find other suggestions. For instance, Grouthouse—maker of custom wood bar tops—says "Home bar tops are usually between 12- to 16-inches wide. Commercial bar tops vary from 20- to 28-inches in width, including a drink rail (or trough) on the server side of the bar."  
Remember that you probably don't want guests to feel like they're sitting or eating on a ledge. You're the expert in what you, your friends, or your customers will be doing while sitting at your bar. If you intend to serve your guests blue-ribbon ribs or buffalo hot wings (both rather messy, yet delicious, foods), then think about how much space you'll want for guests to eat comfortably. No one needs to feel like a slight movement could send their plate careening over the edge.
More considerations
Then there's the question of bar height. How high should your bar be? Forty-two inches is common. And of course, there are other questions to be answered, too, like "what material should you choose for the bar top and for the lower structure?" Not to mention, you'll need to choose chairs that are the right height and good design.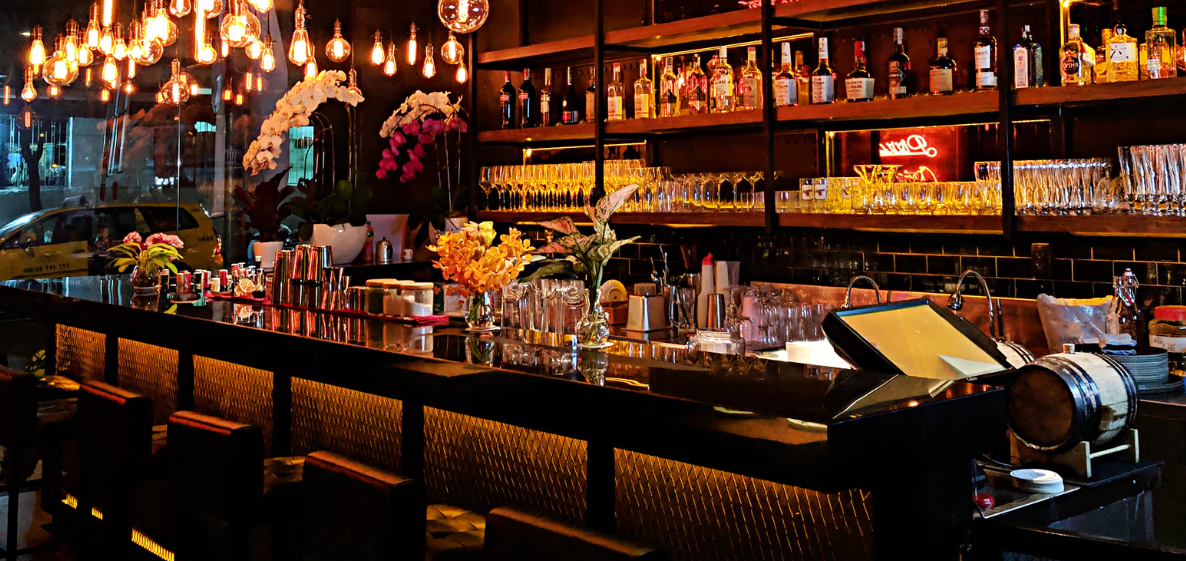 Likely, you'll want to match your bar appearance with the look of the rest of your space. Is it a home with a warm, cozy look? Then, perhaps a wood bar top or a dark stone one would be options. But for a brand-new juice bar that's opening up to offer healthy alternatives for harried customers, white stone might help complete the look (perhaps marble or quartz).
A bar top for every type of business
Those of you about to launch a retro soda bar into the world could go any of a number of ways—sleek black stone, shiny white tiles, even stainless steel, old-fashioned laminate, or wood. And a kombucha bar with a vintage style could pair a gray concrete or stone countertop with dark antiqued wood. But if you're Virginia business owner Blake Gederburg, you use skateboards for your bartop.
Then there's the question of what bar stools to choose. Again, select ones that complement the bar and blend with existing decor. And be sure to get stools whose height, shape, and size make sitting at your bar a comfortable experience. Get some ideas from Joss & Main's How to Choose the Right Bar Stools.
Where are you going to put it?
Of course, knowing the answer to the question of "how wide should a bar top be" doesn't get you all the way to the bar finish line. Even if you know how wide to make it, how long and what shape are other determinations to make. And how much space you have will likely be a factor here.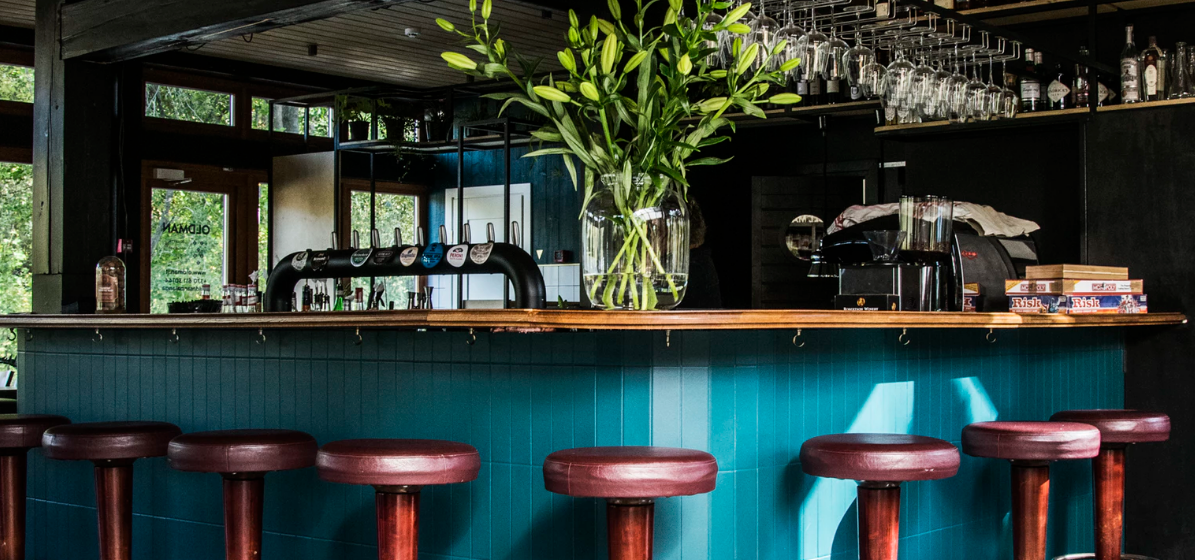 Even if you don't have many, many yards of open space for a straight stretch of bar, you aren't lost. That's because you don't have to have a straight bar. Yours could be U-shaped or even a right angle. You may find a great way to maximize seating space even when your area is limited.  
Learn from what others have done
And as you wonder how wide should a bar top be, consider gleaning from others who had to make sizing decisions themselves. For instance, if you know a friend (or a local restaurant even) who has what you consider the perfect-sized bar top, ask them about it. They may be able to offer a good perspective based on experience using theirs. And, like we mentioned above, remember to dive into other elements like color and style on top of bar top measurements.