No kitchen renovation is complete if it ignores the kitchen countertops. Functionally, they're a vital part of your kitchen, since a lot of your kitchen work is done on them. But they also have a big role to play in creating the overall appearance of your kitchen. And if you're still in the dream and design phase of your own renovation, you're wondering about black countertop pros and cons.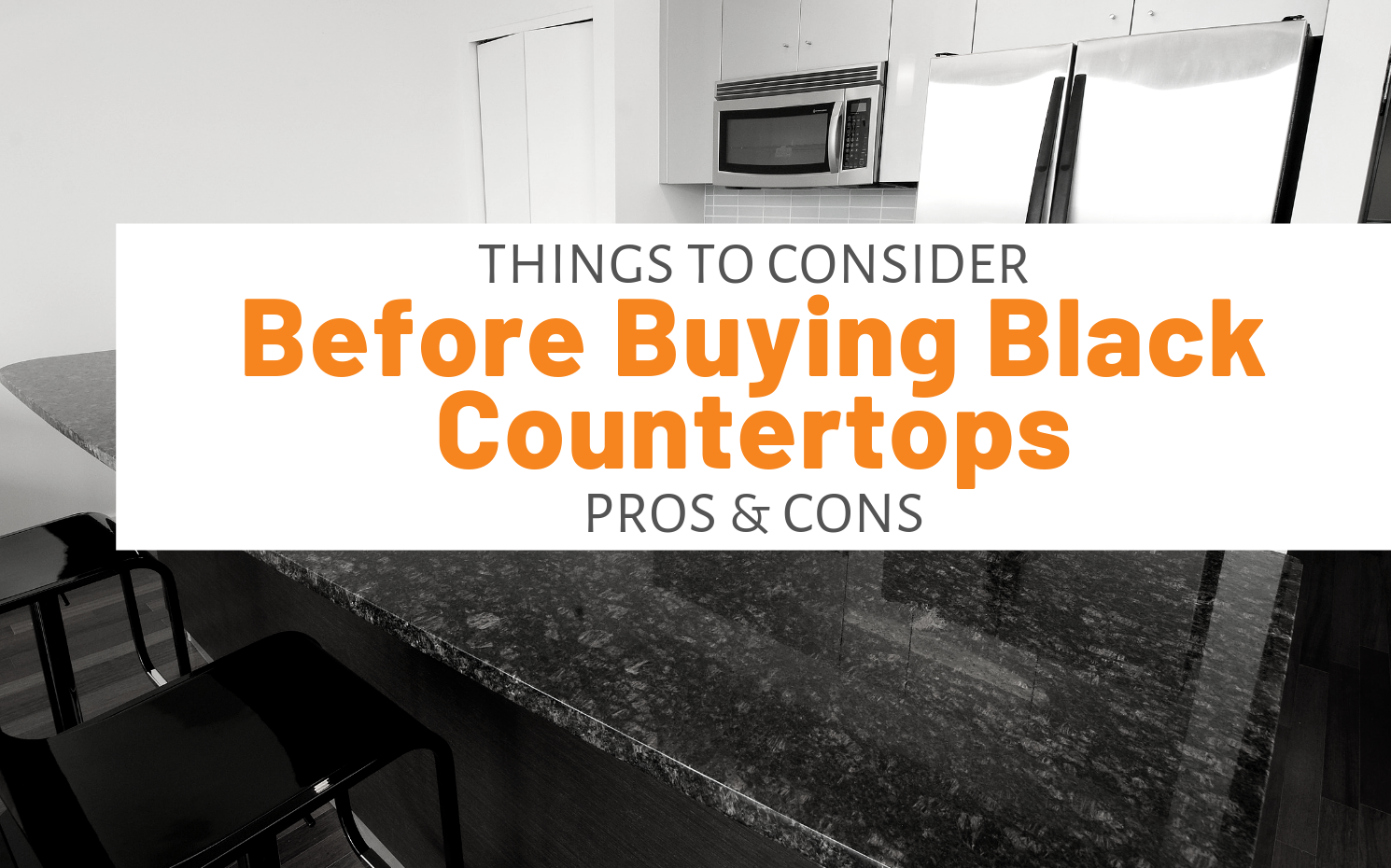 They offer beauty for sure
There's no doubt that black kitchen countertops can make for a lovely area in which to cook (and even socialize). They can look elegant. And paired with white, they make for a striking duo-chromatic look. (Perhaps it's thanks to the simplicity and contrast and the plain old goodness of black and white).
Aesthetically, there's no doubt that black countertops can be a beautiful choice. But, as we know, beauty and functionality don't always go hand-in-hand. That may be why you wanted to research black countertops pros and cons before you top your kitchen cabinets. Obviously, that's wise because once you select your countertops and have them installed, it will be a bit late for second thoughts.
Black kitchen countertops – the pros
Let's have some fun and think creatively about this whole question of black countertop pros and cons. It'll take some imagination, so get yours fired up. Imagine yourself in the following scenarios:
You're recreating your kitchen after 10 years of living in this house. Ugly white & gold speckled laminate countertops are out! You really want black countertops because you love how

classy & beautiful

they are. 

You're downsizing into a tiny apartment and want to create a solid kitchen design in a really small space. You love the idea of solid-color black countertops because you think they'll provide a

clean-cut look

to your kitchen. Plus, you plan for other elements of your kitchen to provide the pizzazz (maybe a light fixture or flooring). So you're looking for a solid color that will be lovely without attracting undue attention to itself. 

Perhaps you're a happy housewife who

loves

keeping your nest neat. Once you renovate your kitchen, you want to be able to do that even better. And black granite excites you because

you may be better able to see when there are unwelcome crumbs

on it.
Black kitchen countertops – the cons
Now, black kitchen countertops aren't all fun and games. And they do have some downsides. Let's dig into some possible cons—all while keeping your imagination going. Next, step into these scenes:
You live in a busy household, and your kitchen island is centrally located. Thus, you're sure it's going to catch keys and books, laptops and cell phones. Likely, people will be constantly putting things on and picking things off its surface. (Not to mention they'll be sitting at the bar stools and leaning on the overhang). You're thrilled that it will facilitate connecting and communication, but the heartstopper is

all the fingerprints left behind

. 

You love to cook and you cook a lot. But you don't just love to cook, you love to

cook

fast

. And when it comes to keeping your countertop clean (which is important if you're prepping foods like meat), you're a one-stop kind of person. You want to take it on with a soapy dishcloth and some elbow grease and call it done. However, you're concerned about

the visible film that soapy dishcloth

could leave behind. 

Your kitchen sees constant use. Of course, that means that plenty of food passes through—and some of it sits around for a while. So, thanks to that (and to seasonal change and the area you live in), you get ant infestations from time to time. Not usually a big deal—just squash them and put out some ant traps. But the plot thickens when you can no longer see the little guys because those

ants are camouflaged with the counter

. 
Cons continued
(Note that we're mainly thinking of stone countertops in this article. However, some of the pros and cons may apply to countertops of other materials). Now, back to the scenarios: 
You're a busy person—not to mention a minimalist. You love streamlining your life to get more done (including streamlining your cleaning methods and materials). So one thing that you're not to keen on when it comes to black countertops? The need to have a

designated cleaner

for them. 

You're an active person and living a healthy lifestyle is a priority. Thus, you drink plenty of water (plus you like it cold). And it seems you're always leaving your glasses sitting around, dripping with perspiration. You know these

cups could leave rings on a black countertop

. 

Beyond black countertop pros and cons
Which scenario(s) seemed to fit best with your life now? Hopefully, those helped you narrow down whether or not black countertops are a good choice for you.
Of course, even with these countertop pros and cons added to your knowledge base, you still have the decision to make. While you're at it, think about what material you'll choose if you haven't already. Check out 4 Different Types Of Kitchen Countertops | Pros And Cons. (Then head to Part 2).