Rustic farmhouse homes may embody the look of an era gone by, but they still have modern touches that bring beauty and convenience to their designs. Of course, this includes stone countertops. From granite to marble, plenty of countertops fit into the rustic farmhouse theme with ease. So, whether you're looking to create your own farmhouse design or you're just curious, take a peek at how stone countertops fit into this look.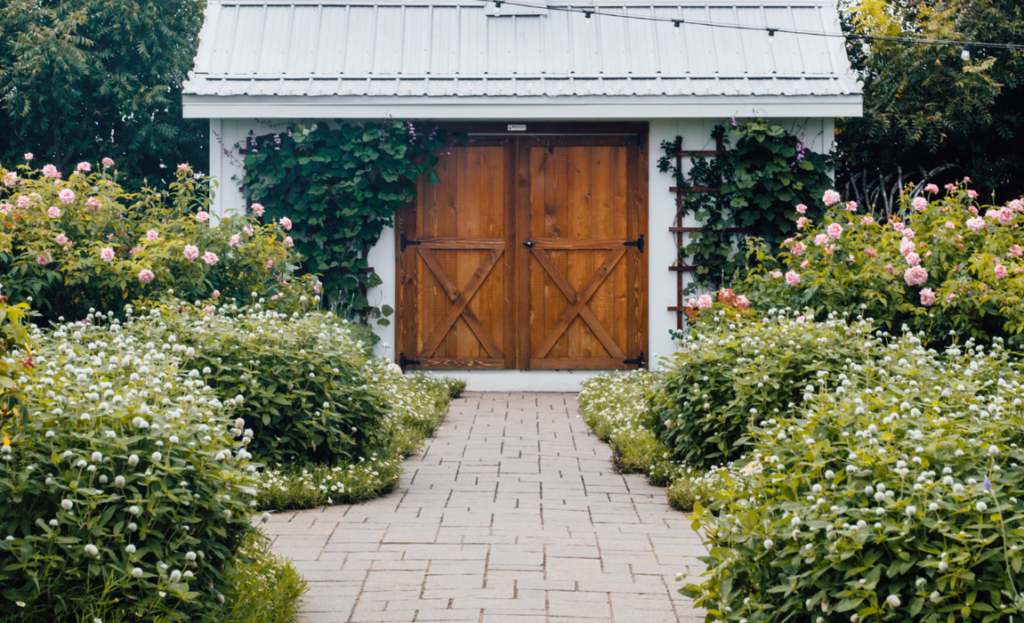 Not all rustic farmhouse designs are the same
Unlike many other design trends, the rustic farmhouse theme has many variations. Some people prefer to go for a more modern look in their farmhouse-style homes, while others choose to emphasize the "rustic" in rustic farmhouse. With that said, keep in mind that it's helpful to look for the core elements of a farmhouse theme while you're checking out these beautiful houses. 
Trendy rustic farmhouse home
This home is a perfect example of a trendy rustic farmhouse. With plenty of sunlight and a little bit of color, it's not too severe in its design. However, it still embodies the idea of a farmhouse theme. What's the best part of this home? The sleek stone countertops that dress up the rest of the house.
The kitchen is a good place to start. While the island isn't stone, the kitchen countertops are. They feature a black-and-white pattern that helps bring some elegance to this farmhouse design. 
An extra apartment area in the upstairs of this house also features a small kitchen with gorgeous stone countertops. 
There's so much marble in this bathroom, and every bit of it is beautiful. The countertops have a black-and-white pattern that's similar to the stone in the kitchen. Even better, the walk-in shower and bathroom walls are smooth marble that's sleek and suave. 
Finally, a stone fireplace is an essential part of this rustic home, and this one is elegant, stately, and the perfect fixture for a cozy farmhouse look. 
A home that really embraces the rustic style
Unlike the last home, this one goes all out with rustic farmhouse style. Of course, that means there's plenty of wood in this home. Fortunately, there's still room for stone in some of these quaint rooms. 
The mint green kitchen is a perfect place for these pale stone countertops. They're a great way to further the farmhouse style while giving the whole room a refreshed look. 
Like the kitchen, the dining room is home to the same type of countertops. 
While the bathroom is a little less "in the rough" than the rest of the home, it still echoes the old-fashioned theme this house is going for. Graceful marble countertops are the perfect way to bring the design scheme together, and they also add some class to this home. 
A farmhouse with plenty of stone
A rustic farmhouse design with plenty of stone is always a good thing. This house is a great example of a rustic home that includes stone in its design: 
The stone fireplace is both quaint and elegant, making it the perfect addition to any rustic home. 
Of course, the kitchen also features smooth stone countertops. This kitchen looks like a great place to prepare a picnic lunch or make cookies as a family!
This charming little hallway area features a blue stone slab that changes up the color scheme of this house a bit. 
Stone countertops & rustic farmhouse homes go hand in hand
As you can see, stone countertops and the rustic farmhouse trend go hand in hand when it comes to home design. Yes, many rustic farmhouse homes favor wood, but that doesn't mean there's no room left for stone! The two materials serve to complement one another to create a unique and unforgettable look. So, if you're interested in this style, don't limit your imagination to the "weathered wood" look of a rustic farmhouse home. Bring some stone into your design as well!