It's that time of year again. Thanksgiving is just around the corner. Christmas dinner (or brunch!). New Year's Eve. And maybe a few holiday parties in between. Needless to say, there's a lot of food being cooked and baked, and it's all going to land on the counter at some point.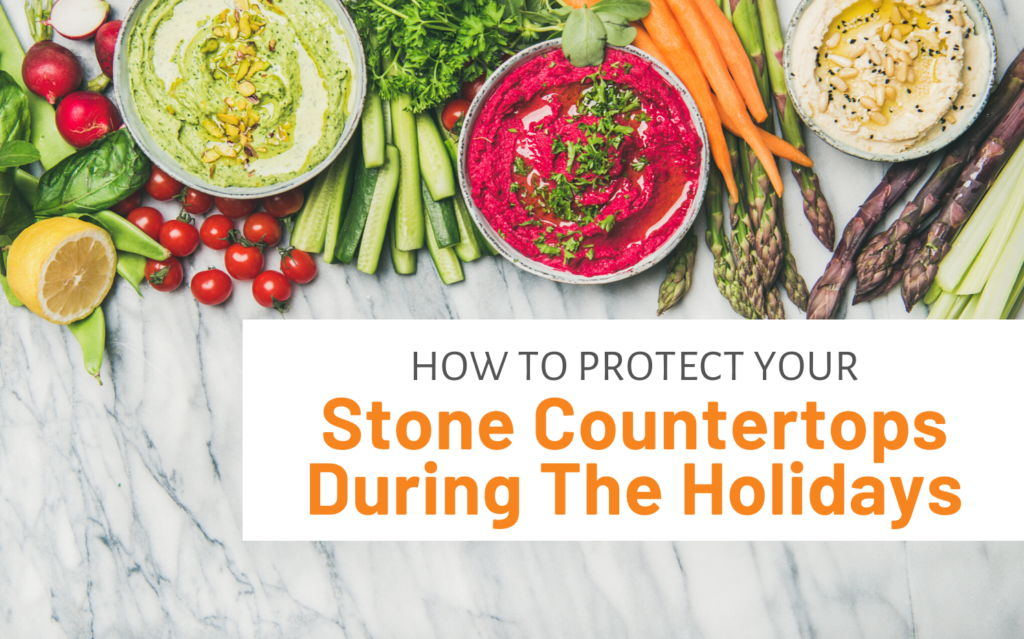 Thankfully, if you're reading this, you probably already did yourself a favor by choosing stone countertops. Stone countertops are extremely durable and will probably hold up for years (even under the pressures of the modern holiday season!). But, we get it. You want to go that extra mile. Just to be sure the holidays don't destroy your beloved stone. And we have a few tips for you.
Seal the deal
The very first thing you want to consider is getting your countertops resealed. If you haven't gotten them sealed within the last few years, then you may want to make this a priority! A newly sealed countertop will resist spills, stains, and heat, which takes half the stress off your shoulders. Plus, resealing is simply a good habit to get into, and what better time to do it than at the turn of the year when you're trying to get a fresh start?
Become a clean freak
That means clean up the messes as they happen. Don't wait. Hot foods and drinks will leave dull spots on the stone if not attended to immediately. The most dangerous messes are ones having to do with acids: tomato, wine, etc. They'll not only leave dull spots (which is called etching) but also leave nasty stains. 
And, though it goes without saying, give your counters a thorough cleaning with soft dish soap after the party. And maybe sit down and relax … at least until the next holiday gathering.
Invest in some mini protection plans
Potholders are common. Not too stylish though, right? Good thing there are few other options to choose from!
Mats
Small silicone mats are really handy for setting pots on, but what if it's Thanksgiving, foods are getting done at different times, and you need a spot to set two or three pots or dishes? Silicone mats come in larger sizes! And they're dual-purpose if you need a place to dry some of those big pots that don't fit in the dish drainer.
If you're not a fan of silicone, there are other materials out there such as fabric. They even sell mats for putting under your appliances (such as that toaster oven that gets way too hot for comfort).
A few other gadgets worth mentioning
Baking racks. Not only will these hold Christmas cookies, but they'll also hold cakes and other baked goods. Every chef (or someone who simply wishes to impress the in-laws) needs a few baking racks for cooling their culinary masterpieces.
And what about this silicone utensil rest from Bed Bath & Beyond? No more do you need to set down a dry spoon or whisk on the countertop! Keep the messes at bay. When the cooking is over, simply pop it in the dishwasher. 
Coasters are a great investment. Buy a set and place a few on each area where guests will be standing and be apt to put down their drinks. People are more likely to put their glass on a coaster if it's sitting there in front of them. They're not going to come asking for one.
Trivets
Now we get to the fun part! Trivets are essential for hosting. They're cute, stylish, and they keep your counter from being damaged. Win-win! 
Trivets come in marble, cast iron, aluminum, and more. Some have little plastic feet so you don't have to worry about scratches. Some are round, some square. Trendy, traditional, bright-colored, or neutral. 
These lovely painted tile trivets are so elegant, each with a character all its own.
Twisted trivets are another fun option! They're modern, yet look like something that belongs in an English cottage.
And then there's this wooden trivet, or these bright, sunny, eclectic ones. Or you could channel your inner Star Wars fan with this silicone Millenium Falcon. The options are endless, and we would go on all day if we could.
Happy Holidays are here!
Now you can rest easy. Hosting is hard work, but you shouldn't have to worry about damaging your stone countertops while you're at it. It's time to relax, eat good food, and spend quality time with your friends and family. Whether you plan to seal your countertops, invest in a few new kitchen items, or quietly clean up the messes as they happen, (or all three), you're well on your way to a successful party. Need more tips? Check out the eight things we don't recommend doing to or on your stone countertops. Happy Holidays!