Simply viewing the kitchens of your friends and acquaintances reveals plenty of variety in types of countertops. Their material and color are two elements you might notice easily. But there are other features—like thickness and edge type that you may not have noticed, let alone cared about. Yet once you're faced with the task of selecting your own countertop, you may discover choices you didn't know you had—for instance, should you go for a beveled edge, ogee edge, or an eased edge countertop?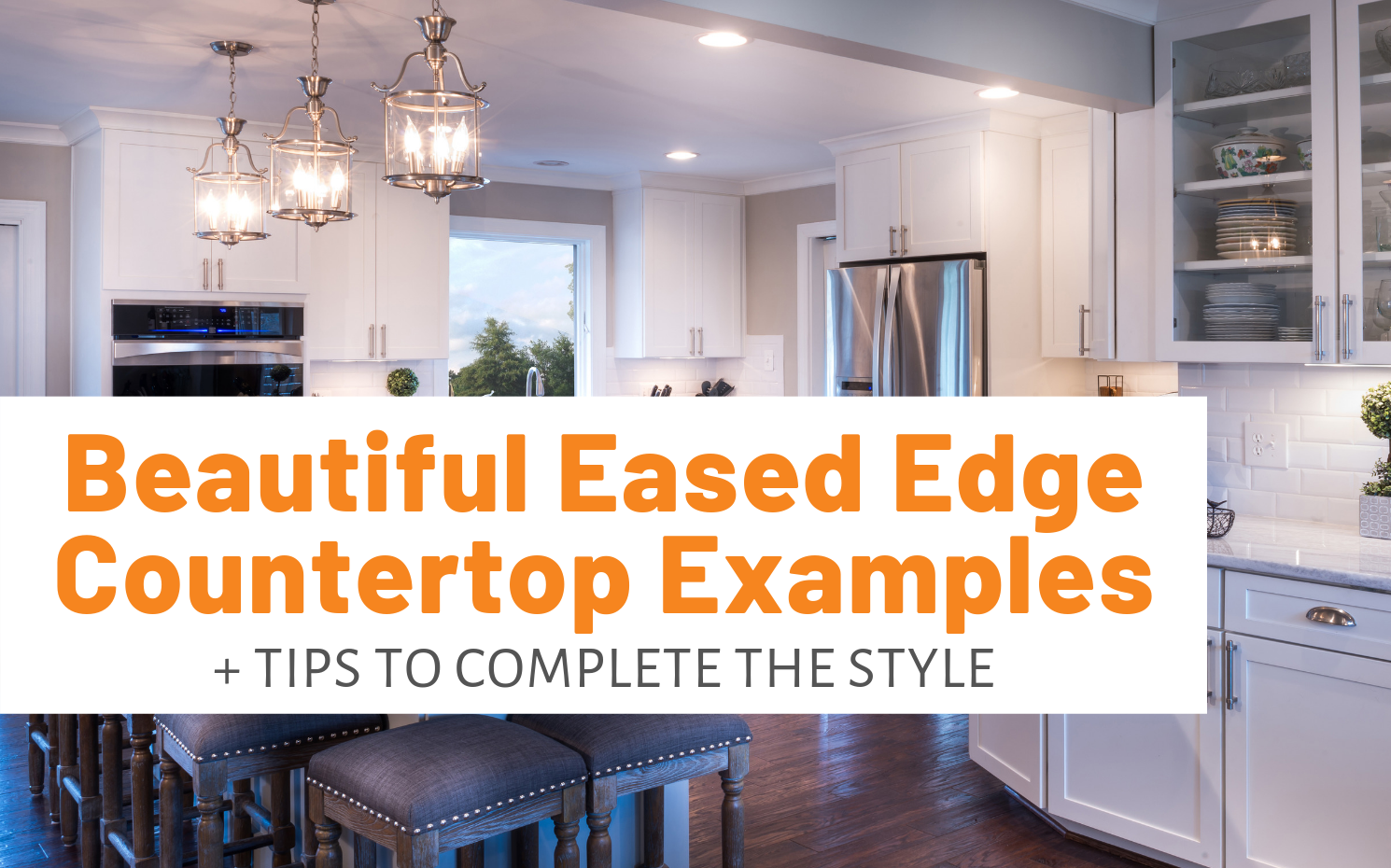 We'll talk about your countertop edging options more in a future post. But right now we want to zero in on one gorgeous option for your kitchen, bathroom, business, etc.—the eased edge countertop. 
Simplicity as style
It's easy to dress things up by making them more complicated and more ornate. But intentionally, choosing simplicity is a sound style choice in its own right. Don't underestimate the power of clarity and simplicity. 
Enter the eased edge countertop
Ever cut a piece of paper by placing it along the angle of a laminate countertop and pulling on the overhanging section of paper? Some countertop edges are pointed enough to help slice through the paper if you apply pressure correctly. 
As this demonstrates, 90 degrees can create a sharp angle. But what if you like the trim evenness of 90 degrees, yet you want to soften it slightly? Enter the eased edge countertop. You'll still get your 90 degrees, but without a sharp point at the vertex. 
Think of an eased edge countertop as a countertop that could have come to a finer point, but the stone cutters wanted to "ease" the sharpness slightly. So they finished the slab's edges with gentler right angles. 
Sometimes, an eased edge countertop slab is only eased on the top side. However, the counters can be double eased, too. Similarly, you'll find you also have options for how thick the counter is. And, naturally, you'll also get to choose different colors and stone types.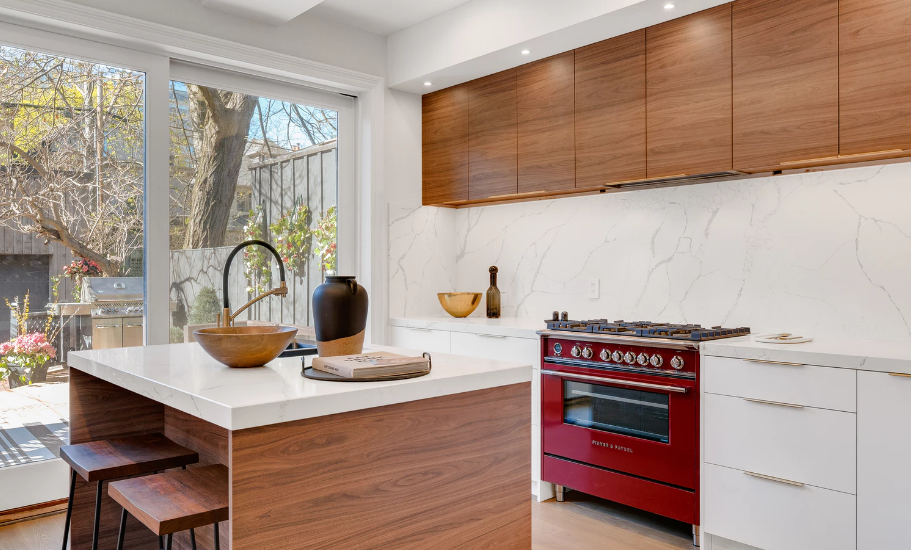 Take a look
See the stunning simplicity of the white countertops in this San Francisco kitchen? And an eased edge countertop could also complement a farmhouse kitchen that is simultaneously warm and cool. Also, see how the countertop's cool, slim whiteness can be blended with the warmth of dark wood and red brick in this New York kitchen.
For more visual inspiration, check out: 
Why should you choose an eased edge countertop?
Restoration Master calls it "the most commonly used granite countertop edge profile." Whether you're choosing granite or not, going simple and clear cut on your countertops could free you up to place your focus elsewhere in the area you're designing. 
When should you choose an eased edge countertop?
An eased edge countertop might help you achieve your look if:
You want tidy
You want modern
You want something that isn't loud on its own
You want your countertop to look thick (at least according to KitchenDesigns.com).
What to do alongside
Let's say you've chosen an eased edge countertop in a neutral color for mild effect. Where do you from here? Likely you could go any of a number of ways. And if you've chosen the rest of your design first and are only now learning about countertop edging, you may be able to integrate an eased edge countertop into the design you've already chosen. Still, here are some possible ways to go as you create a beautiful area alongside your eased edge countertop.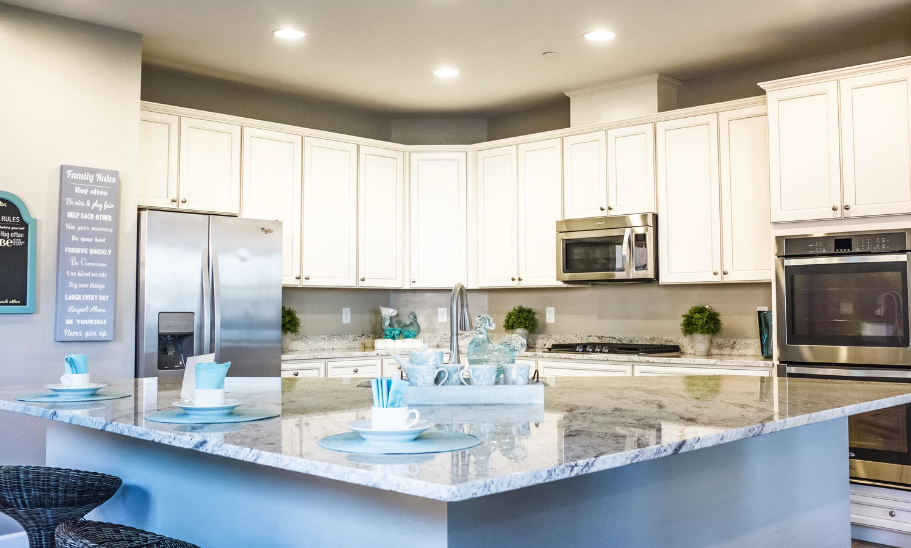 1 – Let the other elements pop
By selecting understated countertops, you free yourself up to make a statement elsewhere in the room. Perhaps your cabinets will be eye-catching. Or you may have an antique butcher block island that takes center stage. For instance, you could follow the lead of this New Jersey bathroom and select stunning wallpaper, engaging light fixtures, and a nearly-humorous stool. 
2 – Pair with more lines & designs
Also, you can bring in more clean lines alongside your stone slab—and even include another pattern, too, as this New York bathroom does. See the tidy lines offered by the vanity cabinets and the subway-tiled wall? Even the creative fixture forms several right angles. But, we also love those hexagonal floor tiles.
3 – Go duo-chromatic
You may find that the simple elegance of an eased edge countertop works well for a duo-chromatic design. Perhaps you're choosing a black and white look, or maybe going for two other colors. Gather inspiration from our Pairing Dark Countertops With Light Cabinets For A Contemporary Style. 
More on kitchen countertops
Choosing eased edge countertops is only the beginning of your area's transformation. Take a look at our How To Match Your Countertop With Your Color Palette & Style for tips on creating a cohesive space. And if you're in a business environment, check out 5 Ways Stone Countertops Can Make Your Office Look More Professional.