So, you've spent plenty of money on your appliances. You certainly don't want to end up replacing them just to coordinate with your countertops. Right now, you need to find out how to match your countertops to your appliances instead.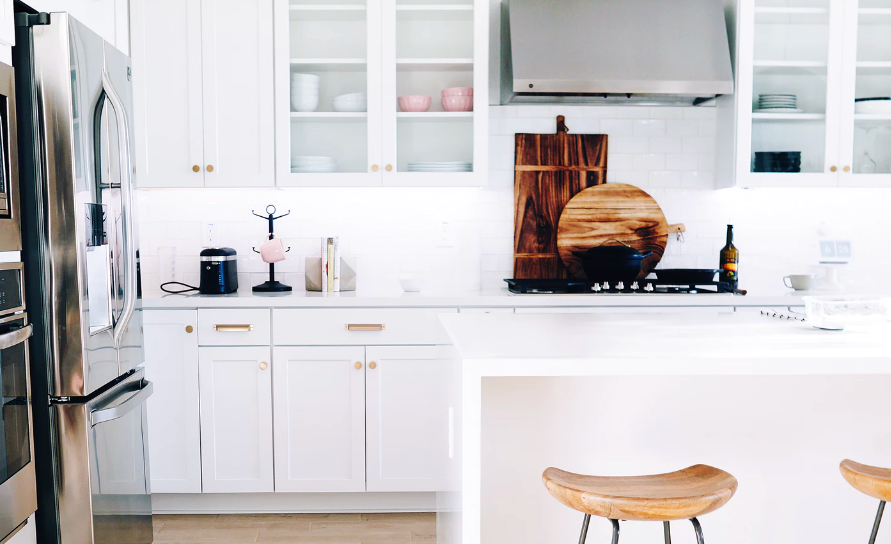 Putting countertops and appliances together
How do you match your countertops to your appliances? Let's discuss some of the most common countertop and appliance combinations.
Granite
A popular option for countertops, granite goes with almost anything. This includes several types of appliances like stainless steel, slate, and more.
Granite and stainless steel
Finding a good match for original stainless steel isn't hard. Granite is commonly used alongside stainless steel appliances. This combination creates the characteristic look of a modern kitchen. More specifically, neutral tones are a good way to combine granite and stainless steel in your kitchen for a modern look.
Black stainless steel is classy and high-end. It also looks great alongside granite countertops. Again, neutral and earth tones are good choices. They really bring out the intensity of black stainless steel.
White appliances look outdated in the wrong environment but classy in the right one. White stainless steel appliances will look high-end surrounded by whatever shade of granite you choose, though we're a little partial to white granite ourselves.
Granite and ceramic or glass cooktops
Cooktops and granite countertops are both part of a contemporary kitchen: fortunately, they go together very well. Even better, any color of granite will work well next to a ceramic or glass cooktop.
Granite and slate
There are two options for slate appliances: original and black slate. The nice thing about slate is that it's versatile enough to go with any color, even bold, bright tones. So, if you're getting bored of neutral countertop colors, try out some brighter shades like the cabinets in this kitchen.
Marble
Like granite, marble goes with plenty of different types of appliances.
Marble and stainless steel
Marble looks great next to stainless steel appliances, whether they're original, black, or white. Marble might be an even better choice than granite for a kitchen with stainless steel appliances – it adds to the sleek, luxury look that stainless steel provides. Black stainless steel is often paired with white marble countertops, and it's a look that we can't get enough of:
Original stainless steel and marble create an unforgettable kitchen as well:
Marble and ceramic or glass cooktops
As beautiful as marble is, it may not be the best countertop material to use near your ceramic or glass cooktop. That's because marble isn't as durable as many other countertop materials. It tends to stain easily and is less heat resistant than granite or quartzite. Of course, this doesn't mean that you can't use marble countertop around your cooktop. Just keep in mind that it may stain a little over the years.
Marble and slate
We're loving the idea of a marble and slate combo. The smooth, matte look of slate appliances along with luxurious, polished marble countertops? Yes, please! Even more specifically, we love the idea of gray or black slate with black marble countertop. Black kitchens are in right now, which means that a kitchen with slate and marble will give your home a trendy look you won't believe.
Quartzite
Another beloved countertop material, quartzite will also work alongside different types of kitchen appliances.
Quartzite and stainless steel
Though it's often purchased in a white or gray tone, quartzite comes in a variety of colors, including blue and black shades. Any of these colors would go well with original, black, or white stainless steel appliances. In addition, quartzite is a tougher material than granite or marble. You'll be getting looks and practicality by installing quartzite countertop in your kitchen.
Quartzite and ceramic or glass cooktops
Speaking of how tough quartzite is, this countertop material is also a good choice for use with a ceramic or glass cooktop. Like granite, it's incredibly heat resistant, and it's also very hard to stain if you take care of it properly.
Quartzite and slate
Slate tends to have a versatile neutral look that goes with anything, and as it turns out, so does quartzite. These two can go together in your kitchen very well, although you might enjoy adding some color elsewhere to spruce things up a little.
Make sure your countertops fit with your appliances
There's more to it than just choosing the right countertop color. To make sure your countertops fit with your appliances, everything needs to be very precise:
If you aren't comfortable installing your own countertops, hire a countertop installer to get the job done right. Before you hire someone, though, check out their credentials, reviews, and past work.

Installing your own countertops instead? Find a buddy, because DIY countertop installation calls for two people. You'll both need to know how to install the countertop correctly so that it doesn't end up with cracks or other damage.

You'll have to have access to certain tools for DIY countertop installation. Check out DIY tutorials for extensive details to make sure you get everything right, from the first measurements down to the last adjustments.

This

step-by-step tutorial will take you all the way from start to finish of the countertop installation process.
Create your dream kitchen
Hopefully, once you've selected the countertops and appliances you love, you'll be one step closer to creating your dream kitchen! Trendy countertops and appliances are a central part of every modern kitchen. With that in mind, take your time and choose what's right for your home. You won't regret taking the time to get it just right!