Art deco is a style that's both sophisticated and comfortable, a sort of "meet-in-the-middle" option for the old and the new. Can stone countertops fit into this design? We'll just let these gorgeous examples speak for themselves.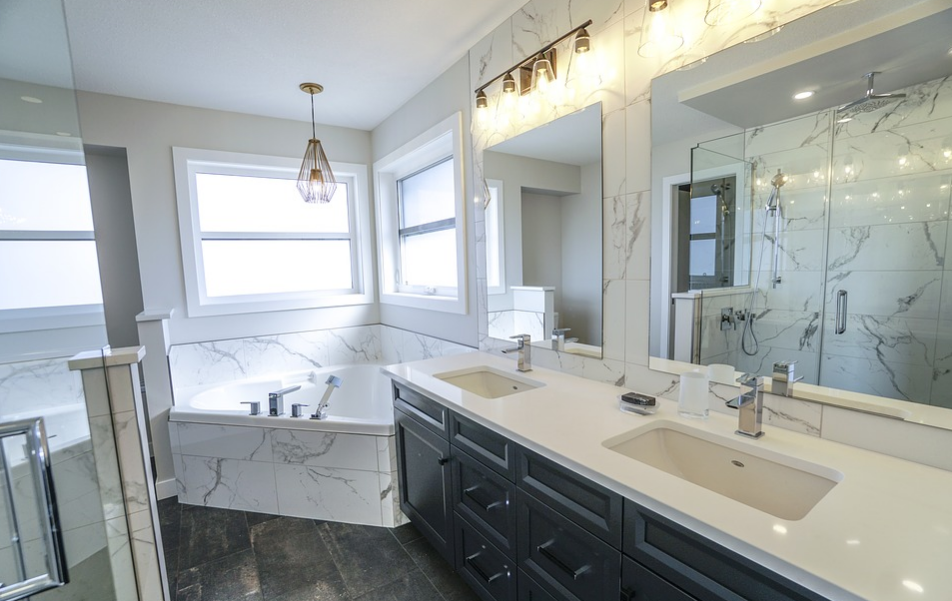 More about the art deco look
Exploring the art deco look leads to some beautiful results. This style took flight in the early 1900s. It was (and still is) a mix of many different styles, changing with the times in order to stay contemporary and up-to-date. As the years passed, new designs became a part of this look, leading right up to what art deco is today. This home is a perfect example of what an art deco home interior could look like:
Of course, not all art deco homes are as drastic as the one featured here, but this one is a good example of just how far this artsy retro-modern style can go. Who knows? Maybe you'll enjoy this look so much that your walls will be bright pink someday. But if not, you can always go with something less startling, like this modest design:
Stone countertops and art deco
Stone countertops are a great way to get the "sophisticated" look of an art deco home. There are so many places to use stone in your home to make it a big part of this style. In the kitchen, bathroom, and living room, stone helps bring the art deco look to life with its natural beauty.
Stone in an art deco living room
An art deco living room is a great place for a vintage fireplace, and marble is a popular stone for both fireplaces and art deco homes. For example, this white marble fireplace captures the essence of an art deco design perfectly:
Art deco homes tend to favor bright colors and contrasts. Therefore, neutrals are always a necessity in order to achieve distinct contrasts in your home. A white marble fireplace like the one we just looked at is a stylish way to bring neutrals into your living room while saving space for bright, bold colors.
Stone coffee table
Another way to bring stone into your art deco design is to find a stone coffee table like this one. With a unique design in gold-colored metal and a white marble surface, the table is an excellent piece to center your art deco living room around.
Art deco kitchen countertops & islands
Countertops can really set the mood in a kitchen. That's definitely the case in this contemporary style kitchen that features a white granite countertop with an art deco flair:
This kitchen is less modern and more art deco, and the marble countertop helps to create the stunning contrast that art deco homes tend towards:
Finally, this art deco kitchen that sticks to neutral colors is surprisingly simple and wonderfully retro. The white marble island in this kitchen definitely complements this already beautiful design:
Get the art deco look in your bathroom
Of course, marble isn't just a good look for art deco kitchen islands and living room coffee tables. This bathroom is almost completely made from white marble, and it creates a classic vintage look:
This one incorporates both black and white marble, and features a unique tabletop design in black marble. It's sleek and contemporary but also wonderfully classic:
No two homes are alike
If you decide to try out the art deco look in your own home, just remember that this style is extremely versatile. No two art deco homes look alike, and that's a good thing: this leaves you with enough room to try out whatever you want and form your version of this style from scratch. Even better, you can follow the latest countertop trends in your home – marble is trendy right now, and it's one of the best countertops for the art deco design. Conveniently, stone countertops are one of the many places where retro and modern meet in this classic home interior style!