What else is a stone countertop good for besides … a countertop? Turns out, there are many ways to highlight those beautiful slabs of granite, marble, and quartz in almost every room of your home! We've collected a few of the most unusual yet practical ways that people have used stone countertops to add a bit of style and function to their spaces.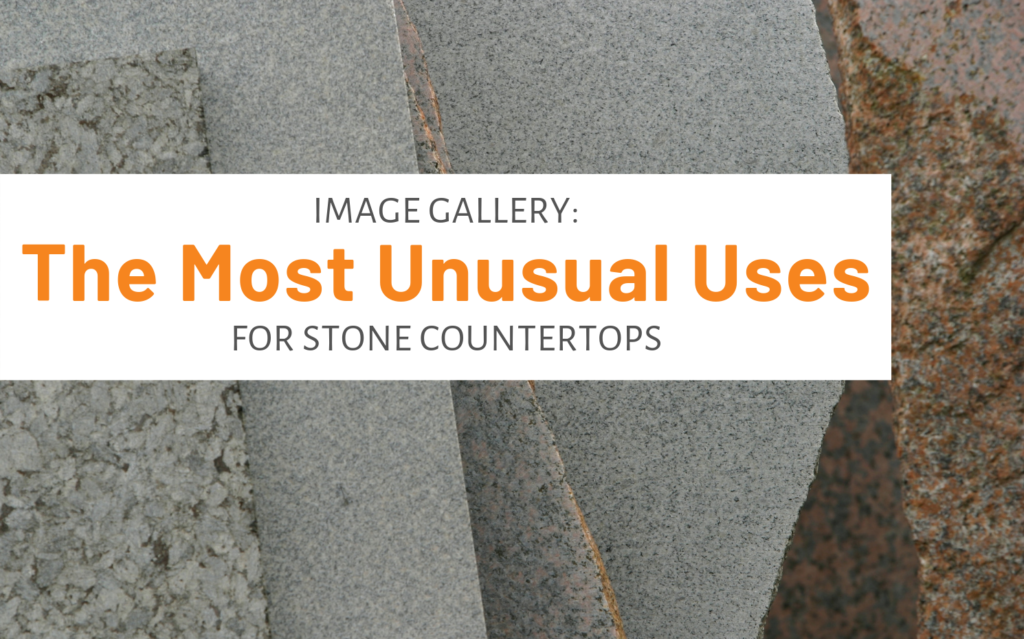 Dining room table tops
So much happens around the dining room table. Every family needs a durable surface to work and eat at. And an attractive piece of furniture never hurts. A stone-topped table is both!
When you punch "stone dining tables" into the search bar, the first thing that pops up is probably granite. Granite is heavy-duty, and even with those weekly dinner parties and huge family reunions, it will last for years. 
While it can certainly work with modern decor, often granite has a decidedly more traditional look. It's a good thing the options don't end there! Marble is a pricey, but elegant, addition to any home. Depending on what it is paired with – wood, metal, glass – a marble slab dining table can be made to match any style of home. Quartz is highly durable, sleek, and modern. Since it comes in almost every color imaginable, it also gives the buyer more options. 
And there are so many style options! A waterfall style tabletop can be a beautiful statement piece. A dining table that juts directly off from a kitchen island would look perfect with a matching stone top, tying in the entire room. And, while we're at it, why not just replace the island with the dining table? That's practicality at its finest.
Desktops
Anyone who works at home knows that a desk is almost just as important as a dining room table. Wood desks are susceptible to ink stains. A coffee cup spills and leaves a permanent spot on the surface, not to mention a strong odor. Stone is ten times easier to clean and it is far more durable. It creates a clean, solid surface to work on, and lasts for years to come.
This blogger made her own, using cube storage underneath instead of table legs. We like the idea of using kitchen cabinets. Shut the doors and hide the clutter! 
Lazy susans
How do you use up the extra stone from a countertop installation? Consider having it made into a Lazy Susan. They're great space savers, and you can even make them yourself. And even though you could use leftover stone from your countertops, a contrasting slab might look even better. Remnants to use for small projects like this are easy to find and relatively cheap!
Cake stands
Cake stands are an even easier DIY project. One blogger used candlesticks she bought at Target. She simply glued them to a leftover piece of marble slab she had cut into circles. Joanna Gaines would approve. 
Shelves
Open shelving in the kitchen has never been more stylish. Or how about floating shelves in the bathroom? Picture marble and copper shelves decorating your bathroom, looking so pretty and way more expensive than they were. That's what this blogger accomplished all by herself. It would be easy to switch out the marble tiles for a marble countertop slab. With a few well-researched bracket choices, you could level up your bathroom's decor in a jiffy!
Wall art
You wouldn't be surprised to walk into a hotel lobby in New York City and see a slab of granite decorating a wall. Yet it is becoming popular to highlight a slab of granite or marble on the wall of your own home. A unique piece of stone is a natural work of art and can brighten up a space. Polished stone reflects light, much like a mirror. Big, bold wall art can also make a room seem bigger than it is, drawing the eye up to the ceiling.
Some stone is broken into pieces and hung on the wall, for an added flair. Feature walls made entirely out of stone slabs can be a stunning addition to a living room, dining room, or even a master bedroom!
Are you inspired?
There are so many options for using stone countertops in unusual ways around your home. From a big statement piece like a stone-topped dining room table to the small elegant touches like shelves and cake stands, you can incorporate stone into nearly every room. To get started, decide what types of stone will complement your style. Then go forth and create a home that is unique to you!