A bathroom may seem like one of the more mundane rooms in the house. But ordinary or not, it's an extremely important space. (Just try living without one and you'll soon discover what we mean). Don't pass over this vital area as you remodel. Instead, create a visually appealing spot—perhaps by using natural stone for your countertop.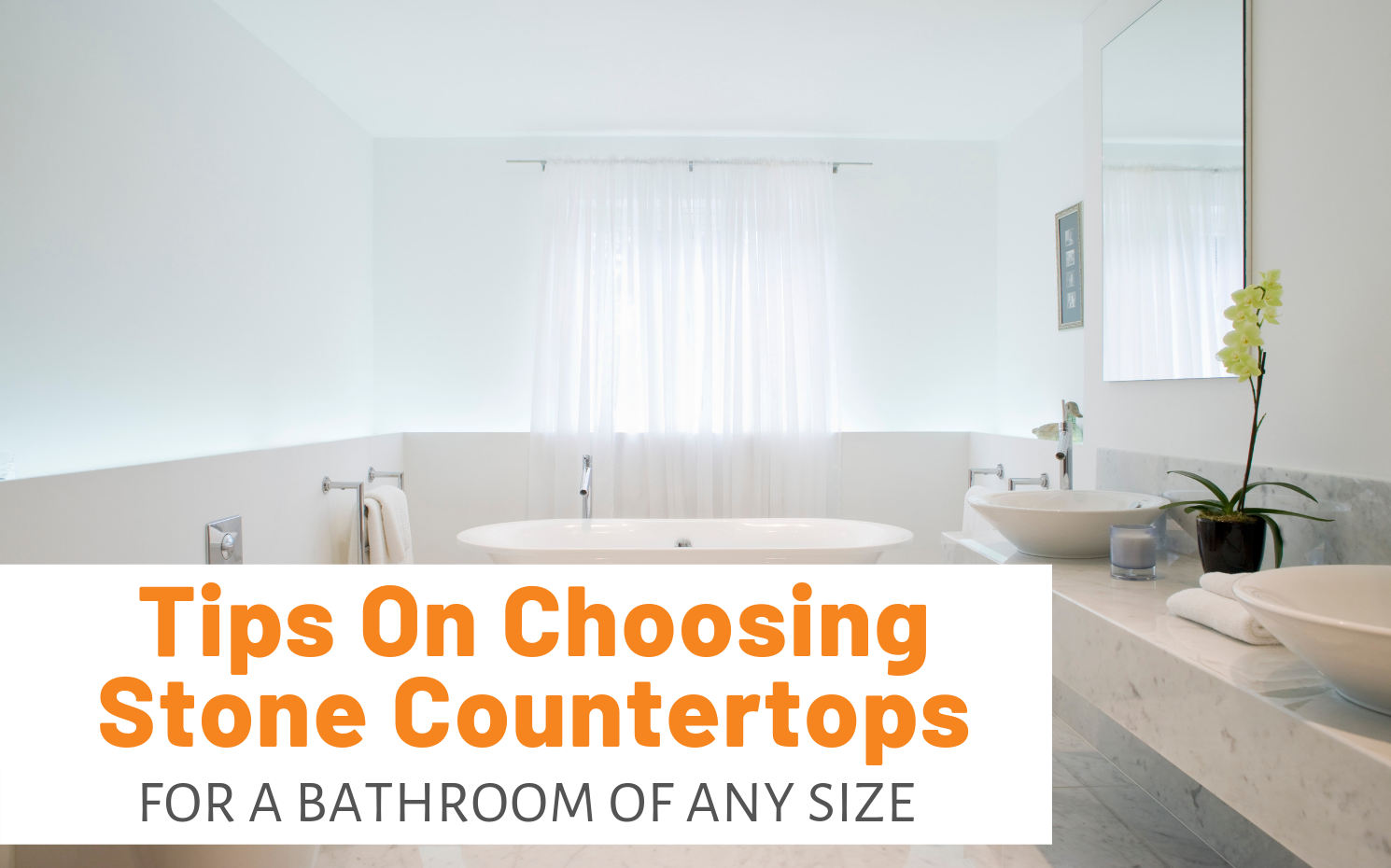 Create a cohesive look
Don't give in to the temptation to believe that selecting a beautiful piece of stone will automatically upgrade your design. In a bathroom, your stone slab is far from the only consideration. Remember that your countertop is simply one element of the room. There are also cabinets, floor tiles, wall, fixtures, hardware, and other things to consider.
You want all these elements to work together to create a pleasant space. How exactly you work this out may vary from bathroom to bathroom. Start by determining which direction you'll be working.
Will you start with the stone first, then find flooring, cabinetry, and other elements to complement it? Or do you have tile, toilet, and cabinets already in place? If so, you may be looking to find a countertop that blends with what you currently have.
Plan for your space
Also, remember that you want to select something that will look good in your particular home. Thus, you'll want to consider the size of the space you have. The tack you take with an enormous space could be different than with an area not much larger than a closet. Thus, tailor your plans to your own space restrictions—discover the best way to bring a natural stone bathroom countertop into the area you have.   
A path for every space
With plenty of room, you could place a large slab on a large cabinet (with built-in double sinks, perhaps). After all, if you have a whole large wall's worth of space, why not lean into that fact? But, if space isn't abundant, you're not out of options. You can simply opt to fit a stone to the space you do have as Arch City Granite did.
Shoot smaller with limited space
As shown above, you can fill up the small wall in your small space if you prefer. However, you can also head toward slimmed down options. This could help you keep a tight area from looking overfilled.
If you have adequate storage elsewhere, consider skipping the full cabinets underneath your counter. Instead, incorporate stone into minimalist bathroom sinks like these. (Perhaps in place of the slim black surface). That way, even though space is tight, your eye has plenty of empty space to rest on.
Or achieve the same 'less is more' effect with something like this freestanding shelf countertop with trough sinks. In short, don't feel that you have to fill the entire space you have. Underfilling could be the way to go if space is limited.
Soak up the stone
Clearly, natural stone is a great building block to create a lovely space. In fact, you might feel that the more stone you can incorporate into your bathroom, the better. If you want a 'stone, stone, everywhere' kind of approach, check out Pantai Granite's job here.
On the other hand, here's another job of theirs that demonstrates you can opt for a slimmed-down vanity without skimping on stone. Plus, check out how they used granite for a rustic yet modern countertop with built-ins.  
Let the countertop be the star
Some of you may already have isolated the type of stone you want in your bathroom. With a stunning piece, consider giving it center stage. For inspiration, check out this large granite vanity (photo 5 of 12).
Allowing the countertop to shine could mean selecting more understated cabinets and floor tiles. However, that doesn't mean you should leave the other elements boring and characterless. Instead, find a few other key elements (like hardware on drawers and cupboards) to add some more pizazz.
Keep your lighting in mind
Wherever you are and whatever size bathroom you have, remember to take your lighting into account. Consider your lighting as you select your natural stone and other design materials. Natural light may amplify your white tones. So using light colored stone and other elements in a room with plenty of windows could create a light and bright look.
Alternatively, your bathroom may have little or no natural light. Since you'll be depending on artificial light, take that into account when selecting your countertop and other elements. An area with less natural light might be a good candidate for a darker, richer look like this Phoenix bathroom. However, you don't have to go darker simply because you're lacking natural light. Instead, carefully select lighting that brightens the space excellently even when your bathroom has no windows.  
Plan thoughtfully
Take your time on the front end to gather inspiration and select materials well. Consider keeping a collection of images that reflect what you want your end product to look like. And before you start tearing out and putting in, head to our 5 Things You Need To Know Before You Start Your Remodel.