Designing a kitchen or a building for your business with accessibility in mind can be tough. You want to make sure the people in your life (or even the stranger you've never met before) are well cared for. One way to make sure that happens is by customizing countertops to their specific needs.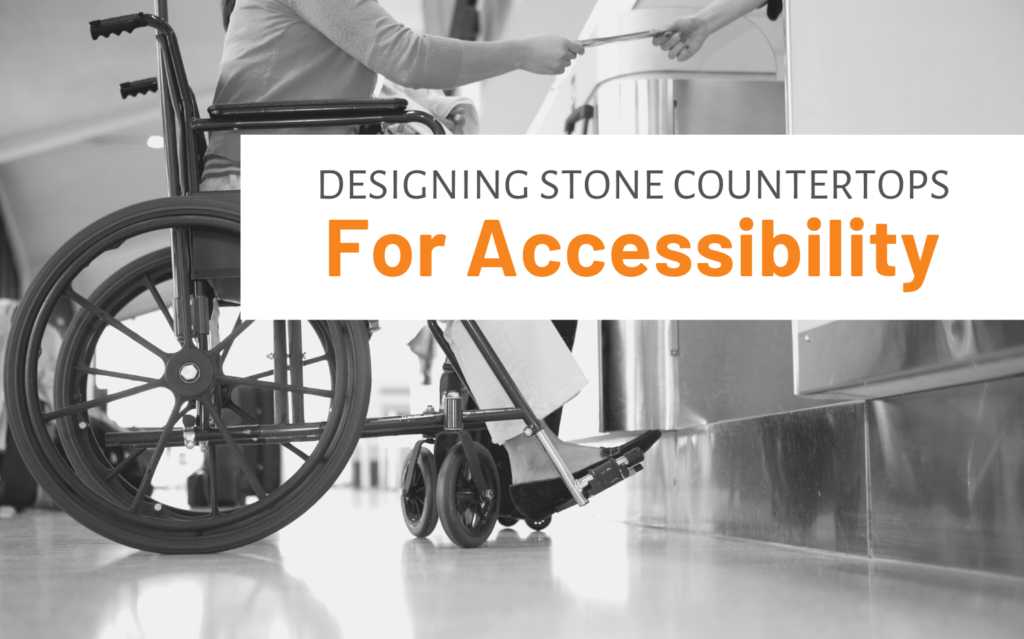 So whether you're creating a kitchen for that loved one with a physical disability or making sure your sales counter accommodates wheelchairs, we've got you covered. We're going to focus on people who use wheelchairs, but we'll touch on a few different disabilities as well.
Kitchens
It's pretty much a cliche by now, but the kitchen is the most important room in the house. It's used by everyone in the family. Usually several times a day! It's crucial that at least this room is tailored to the needs of those family members who face mobility or other challenges.
Wheelchair accessible
For a child who is in a wheelchair, a few minor modifications to the room may be enough. This house designed by Chip and Joanna Gaines may give you an idea of what to include. Think about designing an accessible island seating area and a second sink and counter that is low enough for them to reach. 
For adult family members who want the freedom to work in the kitchen, it will require a little more planning. They want independence in their own homes, and that's what they should get!
The first thing to consider is the height of the counters. Accessible countertops can be no more than 34" high, though they can be even lower. Remember, it depends on the person's specific needs. 
Also, the layout of the room is incredibly important. Again, the person to whom you're tailoring the room should be consulted. How much energy do they have? Will they want to be changing positions much as they work? Someone with a low energy level will require appliances and workspaces within easy reach. Consider installing a pull-out shelf that can be used to prep food. This way, when he or she needs more counter space, instead of moving the counter across the room, they'll have pull-out prep space right there.
For under-the-counter areas that will be used to prep food make sure there is sufficient space so a wheelchair can be pushed close. Generally, the counter space should be at least 30" wide, with the same amount of space underneath for accessibility.
For the visually impaired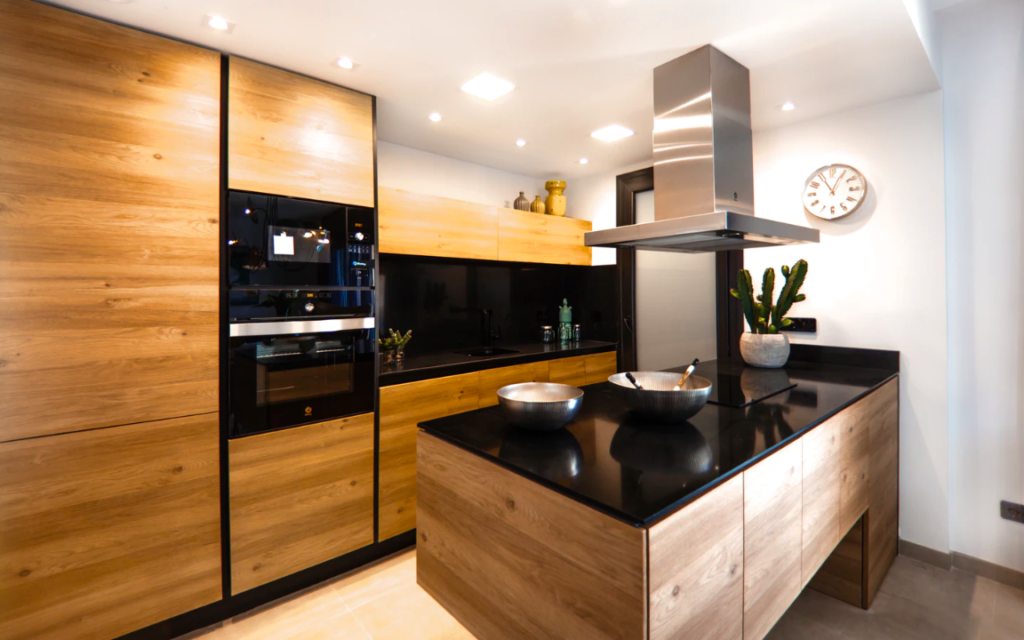 The best way to create a safe and easily navigated kitchen for a person who cannot see very well is by creating contrast. What does that mean? Make sure your design has a lot of darks and lights. If you have white cabinets, white countertops, and a white backsplash, he/she is going to have a lot of trouble telling what's what in the kitchen. However, if you design a kitchen with dark cabinets and a light countertop or vice versa, you'll be in business! Bright colors are also a great choice.
The nice thing about this kind of kitchen is that it can still be pretty. High contrast rooms not only help out the person who is visually impaired, but they also look stunning to the average visitor.
Bathrooms
For someone who has trouble seeing, the same ideas that we discussed above apply to a bathroom. As far as counters for wheelchairs go, it may be best to get rid of them altogether if you're working with a small space. A floating sink can work wonderfully in a small space where function is key and the person will need enough room to turn around without hitting a corner. However, if you have lots of space, the same ideas we discussed with kitchen countertops apply. Just make sure the counter is about 34" inches tall and there's enough space underneath for a wheelchair.
Resturant counters and seating
Restaurants, diners, and other foodservice businesses should have counters and seating that accommodate wheelchairs. Since there are about 1.7 million citizens in the US who use wheelchairs or scooters, it could help you serve more customers, better.
According to the ADA (Americans with Disabilities Act), to be accessible, restaurants must design a section of the service counter to be no more than 36" off the floor. Whether you plan to make the entire counter accessible or not, there must be a small section that the person can easily see over to order. Also, tables should be placed a sufficient distance apart to allow a wheelchair to pass through.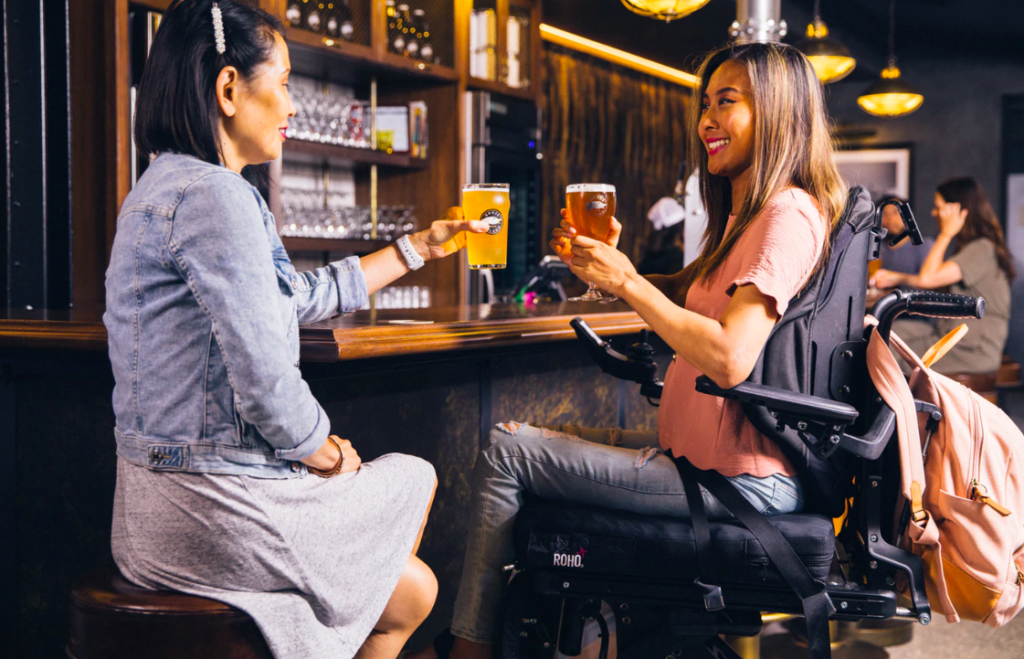 Sales and reception counters
Again, the entire counter doesn't need to be accessible-height. But a portion of it does. Reception counters also sometimes have a space underneath wide enough to accommodate a wheelchair. Sales counters usually do not have this, but it's good to make sure there is enough room for a wheelchair or scooter to come alongside without obstructing the wheels or the view of the individual.
The end goal
The most important part of designing a home (and more specifically, countertops) for people with disabilities is that they feel cared for. And, of course, that they maintain their independence. We hope these tips have been helpful and that you are now ready to design a kitchen, restaurant, or business that will accommodate people with unique needs!