Sinks are a vital part of the modern age, making it easy for us to maintain a level of constant sanitation. Still, not all sinks are created equal. And some are better suited than others to help you create the aesthetic you're looking for. If you're looking to go beyond a run-of-the-mill handwashing station, you may be considering a stone countertop basin.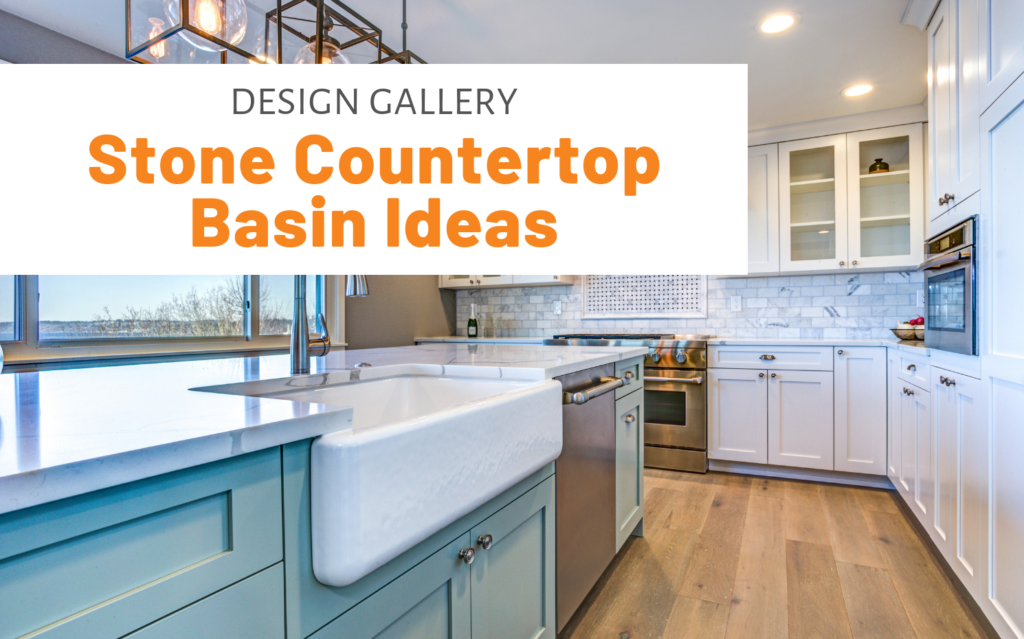 Since there's nothing like seeing things with your own eyes for inspiration, we want to bring you on a visual tour of washbasins. Take a look at these gorgeous options, ranging from rustic to posh to simple. 
A word about basins
Basins are quite versatile. You can use one to craft an art deco look in your space. Or you can cultivate a more modern appearance. Aside from the variation they can drive in your room's aesthetic, you'll find a significant amount of variation in the size, shape, and color of the basins themselves, too. 
You'll also discover that we're covering more than one type of sink structure. You'll find some sinks where the water-containing area forms part of a larger piece (including those that look more like troughs even). And you'll also see sinks in which the water containing area is separate—variously shaped vessels that take their places on another surface. Now, let's take a look at some beautiful sink options. 
Agra
We love the truly natural look of this basin. It could make an excellent choice for your country escape—understated yet bursting with rustic authenticity.
Boffi L14
Yet you may find yourself leaning away from the roundedness of a bowl-shaped washbasin. Instead, select this marble piece for its rectangular, streamlined look. 
Urban Vessel Sink – Cararra Marble
Ironically, there is so much design potential in white. While white may seem simple, it's certainly not dull when executed well. And the classic feel evoked by this white sink's Carrara marble illustrates how lovely white can be. 
Boffi A 45 Stone
This Carrara marble piece is reminiscent of a waterfall when paired with the counter beside and below. Both surfaces are cantilevered, giving it a modern feel. 
The Hayon Collection – 15 
This shimmering marble is a showstopper in black. See the way the light plays off its glossy surface? The geometric shaping could lend intrigue and interest to your room's appearance. 
River Stone by DSIGNIO
Looking for black, but a less glamorous look? Cantilevered but with gently rounded surfaces, this creative stone sink lends a relaxing, natural look. 
coco blu∙stone™
We've seen what marble can do. What about quartzite? Introduce this clean, white basin when you're looking for simplicity.
Satun
This gently-sloped marble trough manages to be black but also understated. It's unpretentious yet sophisticated.
Alec
But rectangular doesn't have to be understated. In fact, you could select more of a statement piece. Like this captivating creamy washbasin option—smooth inside but with a calculatedly rugged exterior. 
Salvatori ALFEO
Take note of this lovely piece with its basin inset in the surrounding stone. The pairing of perfectly round washbasins with such clearly squared stone slabs creates a fascinating effect. 
Made a Mano AQ4
The two tones in this round vessel are stunning. This centerpiece could delight your bathroom with an unexpected pop of color. 
Evolve
Made of reconstituted stone, this basin is reminiscent of a clawfoot tub—especially when paired with the gold handles. We imagine it would make a great addition to a Victorian-inspired bathroom.  
ECCENTRICO 
Sometimes basins look very much like bowls. But here's one with a much shallower shape. Plus, it boasts a striking duo-chromatic appearance thanks to the white veining. 
Selecting your stone countertop basin
Now that you have an idea of the vast array of options available, you can select among these options. Or you can discover options of your own. Once you find a piece you like, keep in mind that you can comparison shop. 
For one thing, you can search for that exact item elsewhere. On the other hand, you can simply look for sinks with a similar appearance (but perhaps a lower price tag). Either way, browsing your options can help you identify what kind of stone countertop basin would be a good fit for your home. 
Stone and its surroundings
A stone countertop basin could be the perfect solution for your remodeling project. But don't stop there, ensure that your entire renovation has a cohesive look with colors, textures, and materials that work well together. Take time for How To Match Your Countertop With Your Color Palette & Style. And get ready to begin with 5 Things You Need To Know Before You Start Your Remodel.