Come rain or shine, natural stone is a desirable outdoor countertop material. But what types of natural stone countertops are up to this task? Even more importantly, why should you use natural stone outdoors? If you're interested, check out our thoughts on this topic.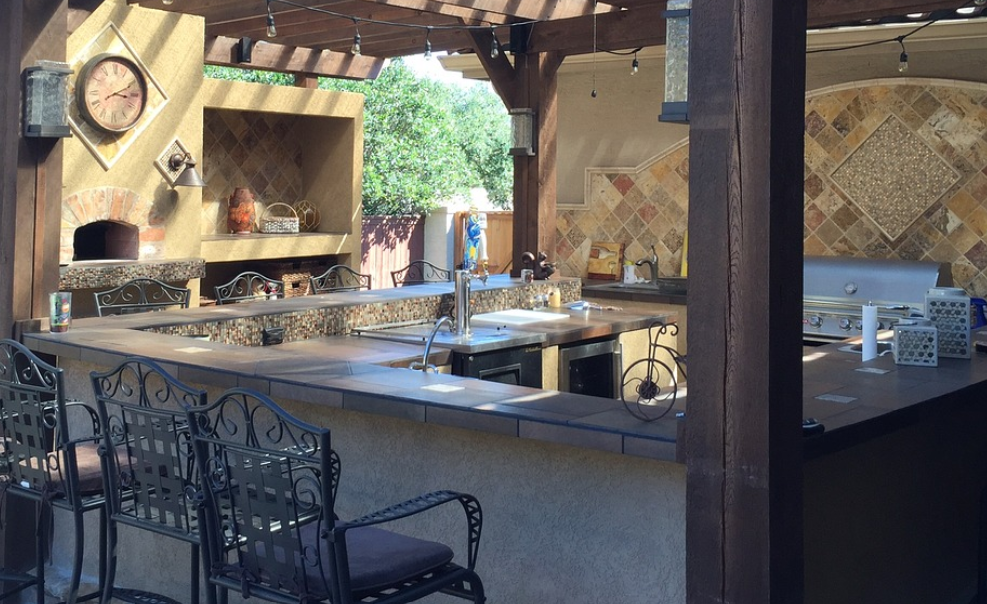 Why is natural stone a good choice for outdoor countertops?
First of all, natural stone options are much more durable than many other countertop materials. Generally, they can stand up to heavy sunlight, moisture, and other weather conditions.

Second, because of the sturdiness of natural stone countertops, they'll last a long time even in most outdoor situations.

Third, as long as you take steps to protect them, natural stone countertops won't fade when they're exposed to UV rays, unlike some man-made countertops.

Finally, the earthy tones of most stone countertops harmonize with an outdoor setting just right.
Some countertops aren't a good fit for outdoor use: marble and limestone are two examples of this. Fortunately, there are several countertops you can use in your outdoor designs. Granite, quartzite, slate, and soapstone are the most common choices and the ones we'll focus on here.
Granite
At the top of the list for many people stands granite for outdoor countertops. It's beautiful, durable, and long-lasting. As long as it's sealed correctly and kept fairly clean, it'll stay in great condition for many years without stains, cracks, or other types of damage.
Quartzite
Quartzite is at the top of the list along with granite. It's an extremely durable material that won't fade over the years of outdoor use and doesn't stain or crack easily. Of course, regular sealing and cleaning are necessary, but the lasting toughness that quartzite offers definitely makes it worth a little upkeep.
Keep in mind that quartz and quartzite are not the same thing. Quartzite is a tough natural stone, while manufactured quartz is a manmade material. This is important to remember because quartz will fade over time if it's used outdoors, meaning that quartzite is always a better option.
Slate
It's neither a popular nor common material for most countertops, but slate has clear potential for an outdoor countertop. The key to success with a slate countertop is to make sure that you're selecting a high-quality piece of slate. High-quality slate is very sturdy, holding up well against scratches and stains. Unlike granite and quartzite, it doesn't need regular sealing. On the other hand, you should avoid low-quality slate at all costs – its vulnerability to different types of damage makes it a terrible choice for indoor and outdoor countertops.
Soapstone
Last but not least, soapstone is another natural stone that's hardy enough for an outdoor countertop. Soapstone doesn't need regular sealing, but it tends to darken after coming into contact with various oils and liquids. So, sealing it every so often isn't a bad idea. This countertop material is also easily scratched, although most scratches are easy to repair.
A few design ideas
Having outdoor countertops installed in your front or back yard is a great way to add some character to your property. Hopefully, you're inspired towards this trend by some of the design ideas we've gathered.
Make it look on-trend
Outdoor kitchens can be incredibly modern and classy. Usually featuring a patio or covered deck with a stove, countertops for food prep, and an area to relax and enjoy dinner, outdoor kitchens are a luxurious element of a home. Some even include breakfast bars that feature natural stone countertops. Common color schemes for a trendy outdoor kitchen are like indoor kitchen and countertop themes: an all-dark or all-light neutral theme or a neutral color scheme that contrasts black and white. Black, gray, and white countertops are the most popular choices for a contemporary outdoor kitchen.
Get the rustic farmhouse look
Perhaps your ideal outdoor kitchen is a little cozier than something modern. If that's the case, a rustic farmhouse look might be your style of choice. This look features a larger range of warm, earthy tones than a contemporary style; specifically, a natural wood color tone plays a big part in this style. Yellow undertones and flashes of green are also important in this outdoor kitchen design. The natural warmth of this color scheme instantly provides a familiar, welcoming atmosphere that makes this kitchen a treat for yourself or your guests.
Focus on your comfort
There are so many different designs for outdoor spaces; some people prefer a covered area, while others enjoy the beauty of the great outdoors too much to shut it out. Some outdoor kitchens look better with breakfast bars, while a simple kitchen table is the best option for others. Whatever you choose for your outdoor space, make sure that you focus on your comfort. Taking your kitchen outdoors is a great way to relax, enjoy yourself, and have a great time!